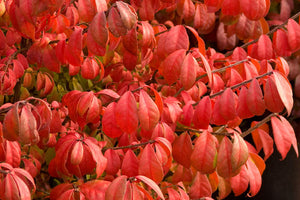 Winged Burning Bush | Euonymus alatus
WE ARE SORRY AS OF 2023, BURNING BUSH, HAS BEEN LISTED AS A RESTRICTED NOXIOUS WEED IN MINNESOTA AND CANNOT BE SOLD.
If you have a burning bush, please ensure that it is kept away from native woods.
Known for its winged, corky bark. Burning bush has yellow flowers in May-June. Prefers full sun or shade. Good for borders and screens. Excellent long lasting fall color.