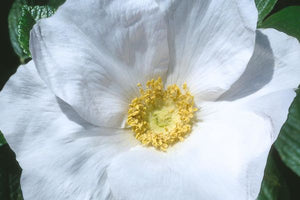 Lot Location: 6.1
Rosa Rugosa
Rugosa roses are known for their extreme hardiness, alluring spicy fragrance, attractive fruit and fall color. Rugosa roses are large, 4- to 6-foot-high shrubs, suitable for difficult sites and tend to have fewer disease problems.
All Common Names:
Rugosa rose, hedgerow rose, saltspray rose, Japanese rose
Landscape Uses:
Hedge,

 

Massing,

 

Screen,

 

Specimen
Size Range:
Medium shrub (5-8 feet),

 

Small shrub (3-5 feet)
Light Exposure:
Full sun (6 hrs direct light daily)
Soil Preference:
Acid soil,

 

Moist, well-drained soil,

 

Sandy soil
Tolerances:
Dry sites,

 

Occasional flooding,

 

Alkaline soil,

 

Clay soil,

 

Road salt
Flower Color & Fragrance:
Fragrant,

 

Pink,

 

Purple,

 

White
Shape or Form:
Multi-stemmed,

 

Round,

 

Thicket-forming
More Information:
Size & Form
4 to 6 feet high and wide.
Upright, sturdy shrub with stout stems. The branches are often allowed to gracefully arch and develop a spreading form.
Suckers and forms colonies.
Tree & Plant Care
Rosa rugosa is adaptable to many different soil types; including temporary wet, but avoid extremely wet conditions.  
Salt tolerant.
Grown on its own roots, making it more hardy than other roses. Winter protection is usually not needed.
Occasional pruning is needed to remove dead canes.  
Disease, pests, and problems
Thick leaves are less prone to fungal problems, rust and  Japanese beetles.
Disease, pest, and problem resistance
Thorny stems deter rabbit and rodent damage.
Native geographic location and habitat
Japan, China, Korea
Attracts birds, pollinators, or wildlife
Many species of birds are attracted to the fruit which ripens in August and often persists through winter.
Bark color and texture 
Stout, bristly stems are incredibly spiny, densely covered in 1/4 inch needle-like thorns. 
Leaf or needle arrangement, size, shape, and texture
Alternate,  pinnately-compound leaf is made up of 5 to 9 smaller oblong leaflets, slightly serrated, with heavily veined and wrinkled (hence the rugosa) texture. 
The dark green leaves turn a beautiful orange-red fall color.
Flower arrangement, shape, and size
Clusters of mostly single, 2 to 3 inch wide, pink flowers with showy yellow stamens open in June and continue throughout the summer with sporadic blooms until frost. Flowers are sweetly fragrant.
Hybrid colors include red, pink, lavender, and white and can be single or double flowers.
Fruit, cone, nut, and seed descriptions
Attractive, large, one inch, cherry-like fruits ( rose hips) can be bright red to orange-red.  Fruits ripen in August and often persist into winter.