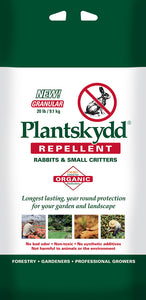 Repels rabbits, voles, hares, chipmunks, squirrels, and other small herbivores.

Plantskydd Granular works on flowers, perennials, fruit and vegetable gardens, and bulbs.

Can prevent deer damage on plants under 2 feet and as a perimeter treatment when used with Plantskydd liquid formulation.

100% dried blood (porcine and/or bovine). No animal parts are used. Biodegrades and adds fertilizer to your soil.

Coverage: up to 500 square feet

Easy to apply – just sprinkle granules liberally on ground.

Made in the USA
OMRI listed for Organic Use