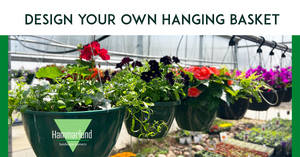 Create your very own floral hanging basket in this fun workshop at Hammarlund Landscape Nursery!


When: Saturday, May 28 at 4pm - 6pm
Where:Hammarlund Landscape Nursery
159 N Cloquet Rd. E
Esko, MN 55733
Cost: $40 for a 10" basket
$46 for a 12" basket
We've got THRILLERS, FILLERS, and SPILLERS! This workshop includes a 10" or 12" basket, a basket liner, basket hanging hardware, soil, and a spread of plants to choose from! With step by step in-person instruction offered by Sarah and the Hammarlund team!

PLANTS INCLUDE: Alyssum, Lobelia, Petunias, Eurphorbia Euoric, Draecan Spike, Twisted Arrow, Vinca Vine, Sweet Potato Vine, Fuschias, Begonias, Geraniums, and many more to choose from! Space is limited, so sign up today!