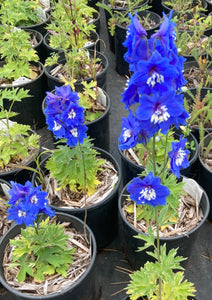 Lot Location:
Common Name: Hybrid Bee Delphinium
This new selection produces strong, tall spires tightly packed with cobalt blue florets with brightly contrasting white central bees. They draw your attention from quite a distance and add terrific architectural presence to the garden in early summer and fall.  Uniform color and form ensure a stunning display whether planted singly or en masse.
The English hybrid type of delphiniums are bred by New Zealand Delphiniums and are hand crossed. These hybrids have excellent form, strong stems, and a vigorous growth habit. They were selected for their improved tolerance of heat and humidity, while retaining their cold hardiness.
Delphinium are a classic garden perennial. These plants are excellent for adding height to small spaces. Their tall flower spikes are easily recognizable when they come into flower in summer. When in flower, the spikes of these plants become heavy and should be staked to avoid toppling over in rough weather, especially taller varieties.
Zone: 3-7
Height: 4-6 ft
Light: Full Sun
Description and photo from: Walters Gardens